When it comes to aluminum corona rings production, Highv's 30 years of manufacturing experience really shows. Let's introduce how to make aluminum corona ring here.
If you are the beginner of this area, you will be an expert through this article.
Let's keep reading.
Before we share the production process of aluminum corona ring for you, you could get a quick glance for below picture process.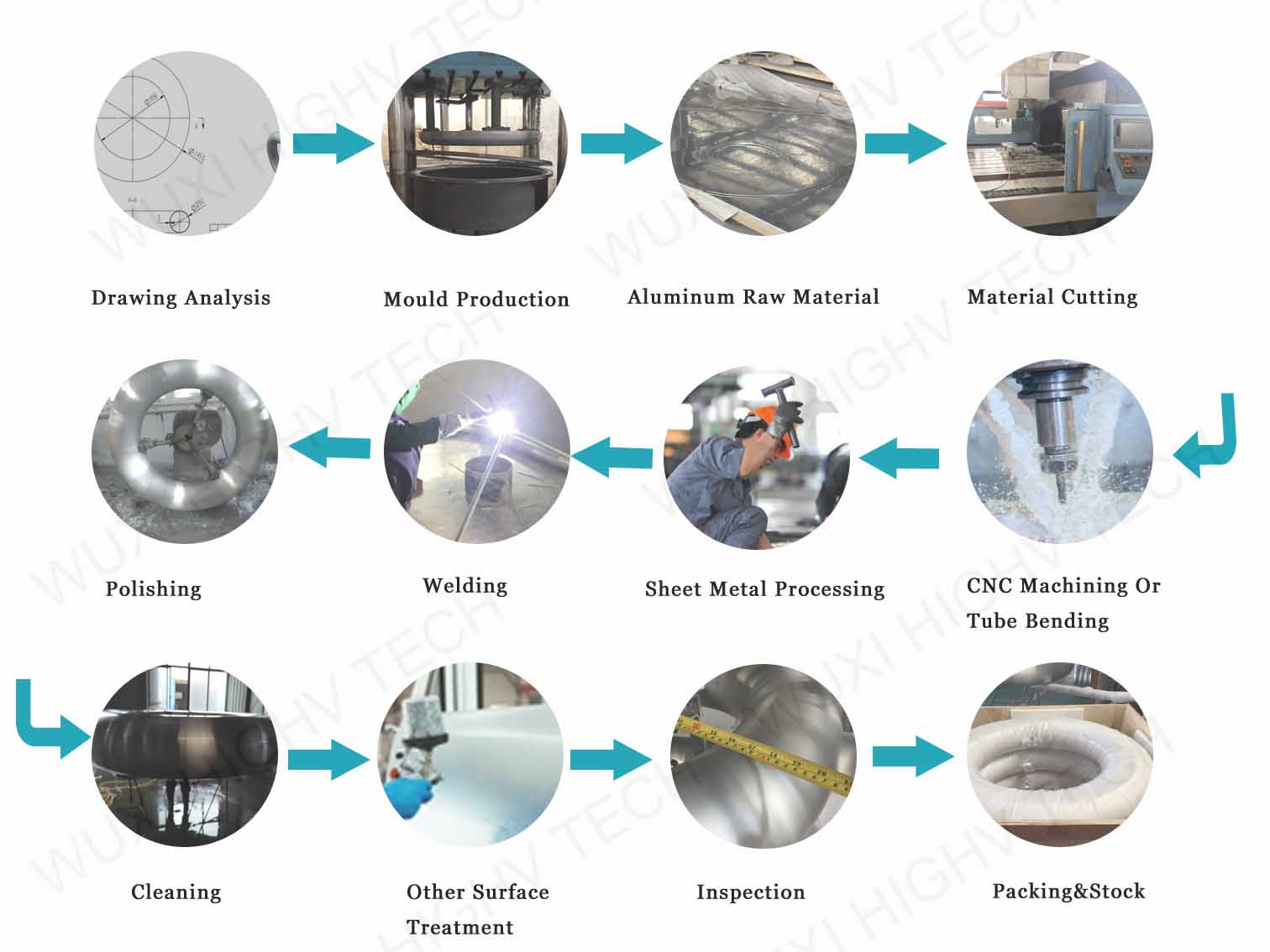 How To Make Aluminum Corona Rings
1. Aluminum Corona Ring Drawing Analysis
If your corona ring is accompanied with the 3D or CAD drawing, the dimensions that you add on the technical drawing are the important part that will be checked by Highv factory engineers.
It is recommended to dimension all important features on your drawings though to avoid misundersatnding and errors.
Before confirmed the order with clients, our professioanl team will check all drawings and requests with customers carefully again and again. It can ensure zero production mistakes.
More information on adding dimensions to your drawing can be found in this detailed article by Massachusetts Institute of Technology.
2. Mould And Raw Materials Preparation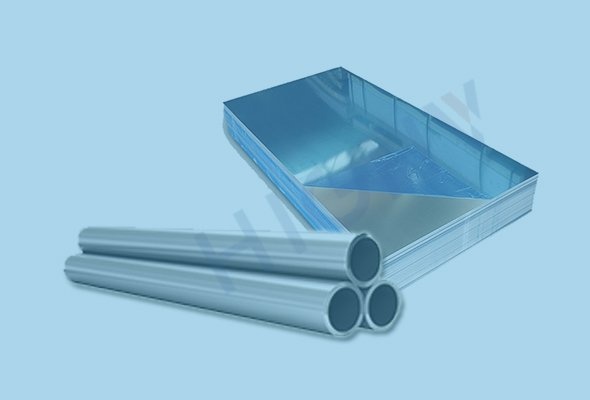 Highv warehouse has powerful mould on stock. But only little aluminum corona rings products and samples for use. Most of our customers inquiry corona rings will be produced by their detailed drawings.
Sometimes the customized corona ring will be designed new mould for following new production.
The stock of aluminum materials is continuous, all the material we purchasing passed the SGS testing, they are prime quality.
The chemical contents and mechanical properties of the material is according to international standard.
As you know, the common raw aluminum material of aluminum corona rings production as below: 1060, 6061, 6063 and 3A21 grades are workable for welding and pipe bending rings, AL101 grade is specially for pressure die casting rings.
3. CNC Machining And Pipe Bending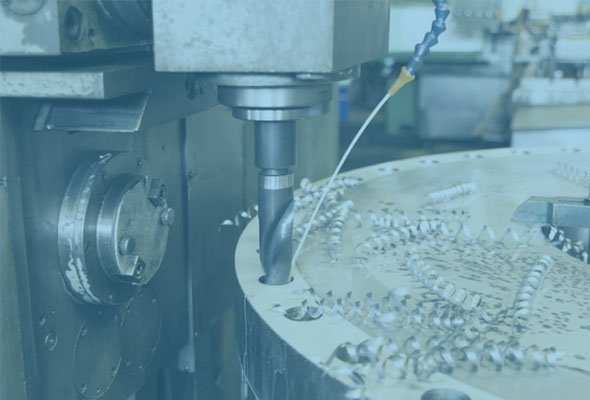 Then our workers will operate CNC machines and pipe bending machines quickly.
The aluminum sheet and pipe materials will be produced as drawing shapes during this advanced production.
Some connected part with ring body will be produced at this step process. Such as middle connecting plates, support brackets, aluminum flanges, welding tubes, etc.
Also the drilling process is mentioned for brackets and flanges holes.
4. Sheet Metal And Fabrication Process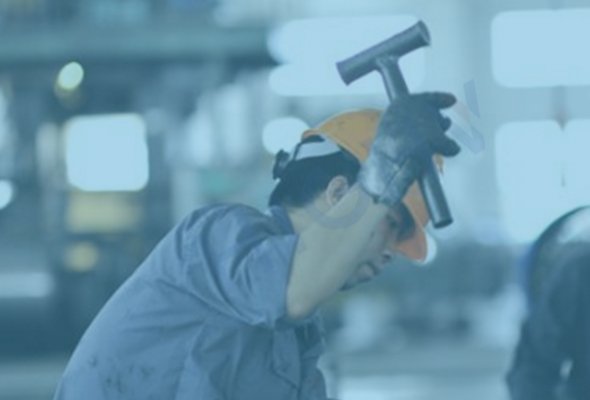 Sheet metal and fabrication process is also the important part of corona ring production.
Highv professional workers will knock the sheet of aluminum body as the ring shape by their hand. It takes long time for forming type.
Here we should introduce our processing capabilities of the large outer diameter of rings.
The biggest diameter dimension of one ring is 16000mm. And pipe inner diameter of ring is 3000mm.
Wall thickness of pipe will be from 2.0mm to 10mm. During the production process, our team will check the sizes frequently and input our Just-in-Time record.
This could ensure all corona rings are within the good tolerances.
5. Aluminum Corona Ring Welding Process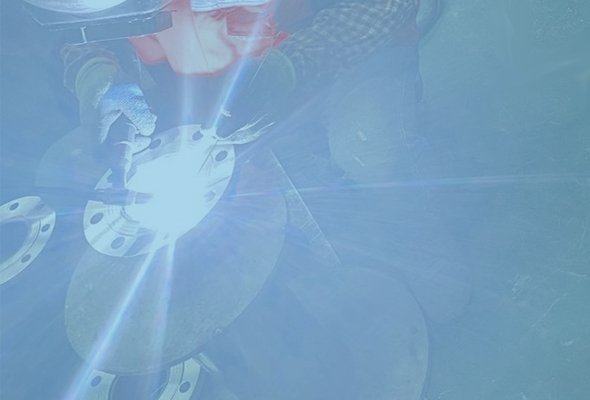 Welding is a process for permanently joining brackets and corona rings to make them as a single piece.
It is an important process of whole manufacturing corona ring, and has a huge impact on the corona ring performance.
The argon protected welding technology is based on the principle of ordinary arc welding.
It uses argon gas to protect the metal welding material. Through high current, the welding material is melted into a liquid on the welded substrate to form a molten pool, so that the welded metal and welding A kind of welding technology that achieves metallurgical bonding of materials.
Since argon is continuously supplied during high-temperature fusion welding, the welding material cannot be in contact with oxygen in the air, thereby preventing the oxidation of the welding material, so stainless steel and aluminum can be welded.
Training of professional welders usually requires knowledge of industrial math, measurements and workplace safety regulations.
Welding training always go hand-in-hand with apprenticeship and on-the-job training, as the best way to acquire the necessary knowledge in this field is through direct application of skills learned.
If you are interested in how can our professional welder do, and are looking for a suitable corona ring manufacturer, look for our pages of blog and video to get more sources.
6. Polishing And Cleaning Process
The professional aluminum polisher is a good choice.
As you know, the surface will be influenced by the process of welding and sheet metal fabrication.
Depending on the aluminum surface, the stains present, and the quality of the product you can choose our polishing solutions, consult with our professional enginner who can help you find the right one.
After finished the polishing process, the corona ring surface will be shown the silver metallic luster. Then our workers help finish the following cleaning process to make sure surface without any stain.
7. Aluminum Corona Ring Surface Treatment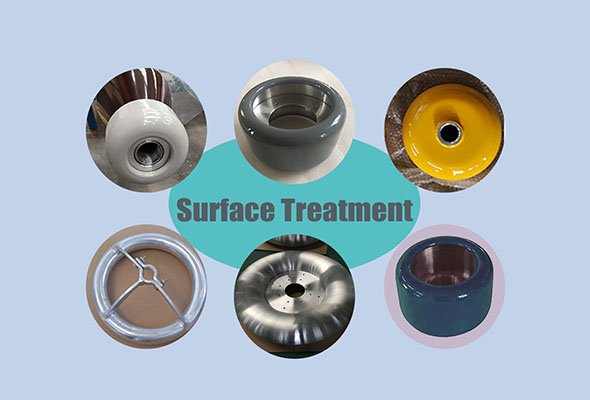 Sometimes customers need other surface treatment, here we have many types based on polishing surface finish for choice.
Such as anodic oxidation, galvanized, color painting, coating insulating varnish, etc.
These treatment will help corona rings have excellent corrosion resistance and anti-oxidation for outdoor applications.
8. Aluminum Corona Ring Inspection And Packaging Before Shipment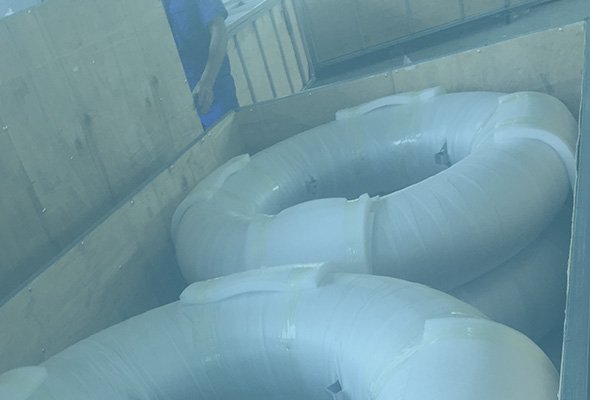 As a word, exquisite sea packaging capability reflects every corona ring and shields supplier's service. It also greatly influences the customer's next order plan.
Wooden case and carton boxes with wooden pallet are the two main packaging methods.
In order to make sure the corona rings that we delivered to customers are good, before packaging we will make the 100% quality inspection and selection.
Then we help pack all goods well. Our company has professional team and adopts developed packaging technology and packaging style to ensure the each rings' packaging quality.
The wooden case and rings contact parts must be padded with foamed paper or rubber. Case four corners shall not be smaller than the size of the rings. Corona rings surface is wrapping foam paper, Four sides contacting with wooden case with foam mat protection.
In addition, clear labels are tagged on the outside of the packages for easy identification of the corona rings measurements and quality information.
9. Aluminum Corona Rings Warranty Policy
We pay more attention to these corona rings' quality support, supply scope, inspection, testing standard, shipment packing, after-sales service.
Once you receive the products, please open the outside and inner packaging and check all cargo within 7 days.
If there are quality problems, we will arrange to remake products or return the money for you. Highv team will do the best to meet all your satisfaction.
What Can We Do For Your Aluminum Corona Rings Project
Highv is the aluminum corona ring and shielding aluminum fabrication expert.
Highv has several years of production aluminum corona rings experience which make it an ideal choice for you. Our expert engineers team is well versed in high voltage fields, making sure there is no error in your every corona ring order.
With the core advantages of advanced equipment and excellent teamwork, our cooperative partners relay and trust us very much.
If you are looking for the quality corona rings factory from China that could help you carry out all the respective processes involved in industry from the aluminum bending tubing to corona rings for high voltage laboratory, Highv is here for you.