Aluminum corona shields have many models, such as aluminum corona shielding spheres, corona rings shields, corona shielding covers, corona balls, etc.
Generally the aluminum corona shields need to be polished bright to achieve more smooth and no burr surface finish to ensure better corona shielding effect. Sometimes the special surface will be applied. The epoxy painting can help protect this finish.
When design aluminum corona shields with Chinese manufacturers, if you are worried about the results of end products design. If yes, here is the right place you come to visit.
Without further ado, let's jump straight into the topic to find the right solutions on aluminum HV bushing corona shields.
HV Bushing Corona Shields New Mould Design
If your inquiry aluminum corona shields have same parameters compared with our current stock. You should not worry about anything about mould design.
If your HV bushing corona shields are customized ones, the extra design drawing and mould fee will be needed.
The mould of aluminum corona shields refers to the tooling used to produce different shields and parts in molding.
Choosing The Right Raw Materials For HV Bushing Corona Shields Design
High quality aluminum alloy, it is a popular raw material to use for high voltage bushing corona shields new production.
The customized outer diameter aluminum corona shields are usually made from 1050, 1060 and 6061 aluminum alloy that is formed and welded.
HV Bushing Corona Shields Wall Thickness Design
Here we should discuss the sheet metal and welding methods high voltage corona shields wall thickness.
Wall thickness of bending, sheet metal and welding will be from 2.0mm to 20mm.
Usually the 3.0mm thickness aluminum plate is for 1000mm outer diameter corona shields production and design.
The larger thickness shields will have high strength according to different usage.
In a word, the thickness plate of corona shields will be designed and discussed with customers together.
HV Bushing Corona Shields Outer Diameter Design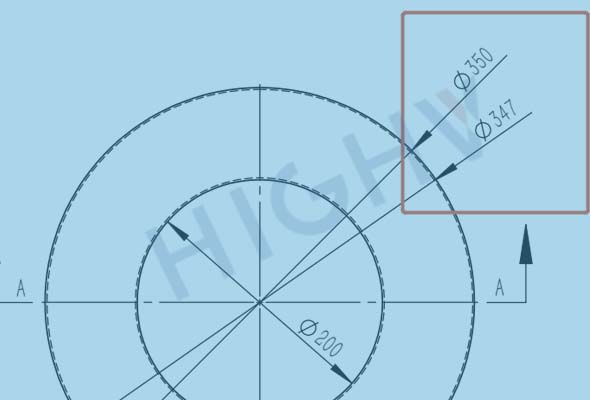 Outer diameter of aluminum corona shield depends on high voltage grade on high voltage bushings.
As the high voltage level of terminal bushing becomes higher, the diameter of the corresponding aluminum corona shields must be enlarged.
Here we should introduce our design and processing capabilities of the large outer diameter of these customized shields.
The biggest diameter dimension of one shield is up to 10000mm.
If you have any doubts about corona shields outer diameters, please let us team know at any time.
Conclusion
These above are only the common factors for HV bushing corona shields design and real production, Highv offered complete corona shielding control solutions.
If designing the aluminum corona shields for terminal bushings still seems overly complex, the best thing to do is consult an design and manufacturing expert.
HIGHV is one such specialist, with years of experience creating aluminum corona shields and aluminum corona rings for a range of customers.
Contact HIGHV team members today to get a quote of customized aluminum corona shields or learn more about what we do.