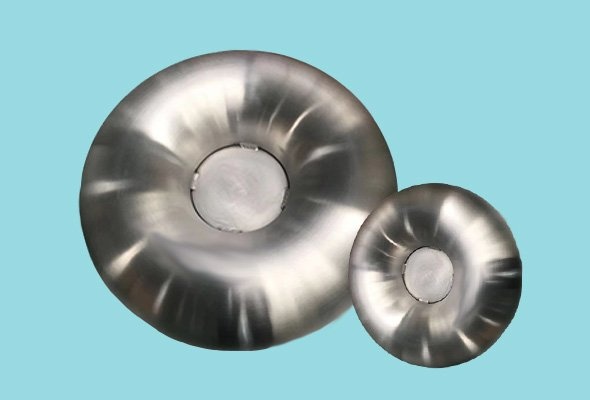 Are you looking forward to having a plan or coming up with an idea to purchase corona shielding rings for laboratory, bushing, power transformer, capacitor, GIS, substation and insulator manufacturing?
Check out the following buyer's guide for high voltage test engineers, operators and beginners, we'll offer you the high quality corona shielding ring with 24/7 custom service to fit your drawing ideas and plans.
Contact our Highv team today to get your corona shielding solutions and details.
What is a corona Shielding ring
Corona shielding ring, it is also known as corona ring or electrode, which can be divided into arrester corona shielding ring, lightning protection corona shielding ring, insulator corona shielding ring, transformer corona shielding ring, high voltage test equipment use corona shielding ring, power transmission line corona shielding ring.
Corona shielding ring or electrode can be used in precision measurement of electrical equipment. HIGHV offers designing, manufacturing and installation of corona shielding ring.
How Does a Corona Shielding Ring Work
A corona shielding ring, also called an anti-corona ring, is a toroid of conductive material, usually aluminum alloy, which is attached to a terminal of high voltage equipment.
The role of the corona shielding ring is to distribute the electric field gradient and lower its maximum values below the corona threshold, preventing corona discharge.
Corona shielding ring is used on untra high voltage power transmission insulators and gas insulated switchgears, and on scientific research apparatus that generates high voltages.
Corona shielding rings are typically installed on super high voltage power line insulators.
Corona shielding rings prolong lifetime of insulator surfaces by suppressing the effects of corona discharge.
Corona shielding rings may also be installed on the insulators of antennas of high-power radio transmitters.
However, they increase the capacitance of the insulators.
What Materials Can Be Used For Corona Shielding Ring
Material Available:
| | |
| --- | --- |
| Aluminum | 1060 |
| Aluminum | 6061 |
| Aluminum | 6063 |
| Die Casting Aluminum Alloy | AL101 |
| Copper | C11000 |
| Copper | C12000 |
| Stainless Steel | SS304 |
| Stainless Steel | SS316L |
Corona Shielding Ring Technical Parameters
Product Name:
Corona Shielding Ring
Service:
OEM and ODM is available
Raw Material:
Pressure Die casting: Aluminum Alloy AL101 etc.
Aluminum: 6061/6063/3A21/1060
Stainless Steel: 304/316L
Copper: C1100
Standard: JIS, DIN, ASTM, BS, ISO, AISI, GB
Ring Tube Wall Thickness:
2.0mm-10.0mm
MOQ:
1 Piece/Set
Processing:
1. Process: Raw materials(Aluminum, Copper, Stainless Steel etc.) cutting, Pipe bending, CNC machining, Turning, Milling , Drilling, Grinding, Wire EDM cutting, Welding, Pressure die casting, Polishing finish, Other Surface treatment, Cleaning, Testing, Assemble and install, Packaging, etc
2.Precision Machining: CNC turning, milling, drilling, grinding, assembly
Surface treatment:
Polished bright/Galvanized/Color painting/Coating insulating varnish
Packaging:
Steel pallet, wooden pallet and cases with fumigation, wooden cases, etc
Delivery time:
Within 15-25 days after receiving order deposit payment
Transaction term:
EXW, FOB, CIF, DDP, etc.
Payment term:
T/T, L/C, West Union
Product application:
GIS (Gas insulated switchgear), Substation, Arrestor, High voltage bushing, Shunt reactor, Power transformer, Power cable (accessory), High voltage laboratory (High voltage test equipments), High voltage capacitor bank, High voltage transmission line (overhead line), current transformer, voltage transformer, etc
What Are The Features of Corona Shielding Ring
High strength
Excellent polishing bright finish
Corona shielding advantage
High moistureproof
Tasteless&non-poisonous
Anti-causticity
Competitive price with good quality
Low MOQ (1 piece/set is even acceptable in some special conditions)
Customized sizes and specifications /OEM is also available
What Is A Corona Shielding Ring Used For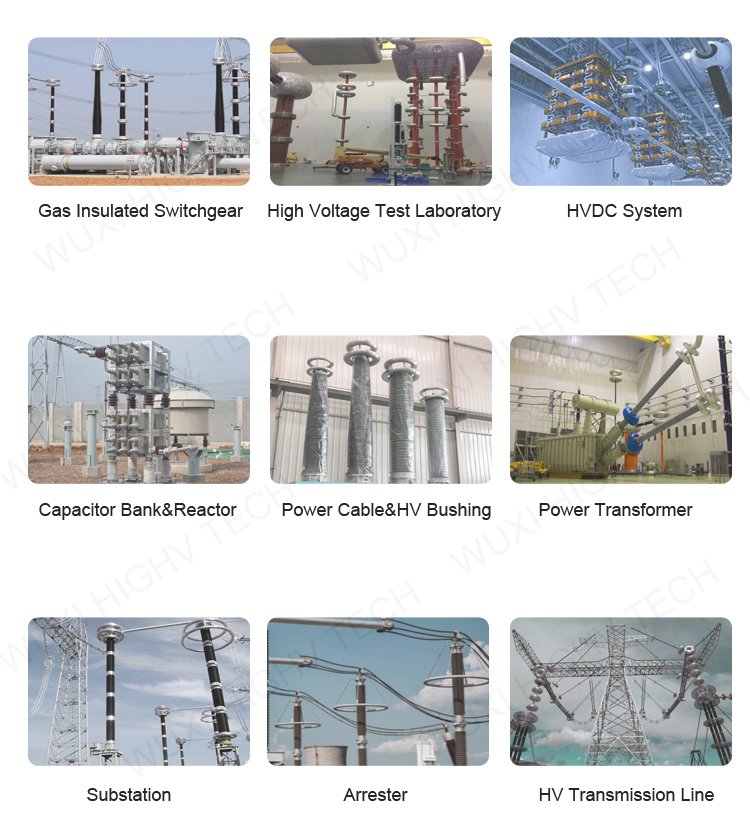 HIGHV custom made solutions and aluminum corona shielding rings are widely used for below different high voltage systems.
High voltage capacitor banks
High voltage dividers
GIS (Gas Insulated Switchgear)
Substation
Surge arrester
Shunt reactor
Power transformer
Current transformer
AC voltage test transformer
Voltage transformer
Impulse voltage generator and current generator testing system
Power cable (accessory)
High voltage laboratory (High voltage test equipment)
High voltage transmission line (overhead line)
Insulator
What We Can Do For Your Corona Shielding Ring Project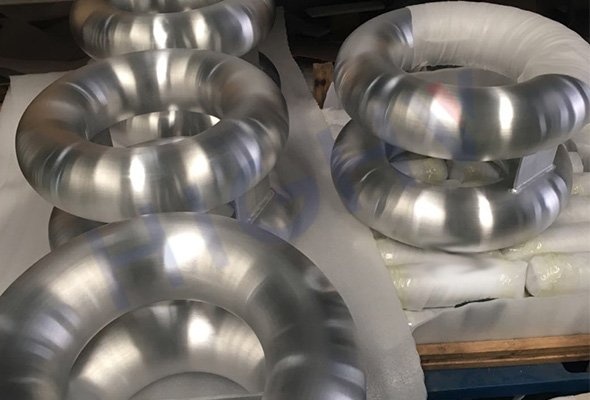 | | |
| --- | --- |
| Product Name | Corona Shielding Ring |
| Material Used | Aluminum |
| Surface Finish | Polishing Bright |
| Application | Power Transformer And Bushing |
| Delivery Country | USA |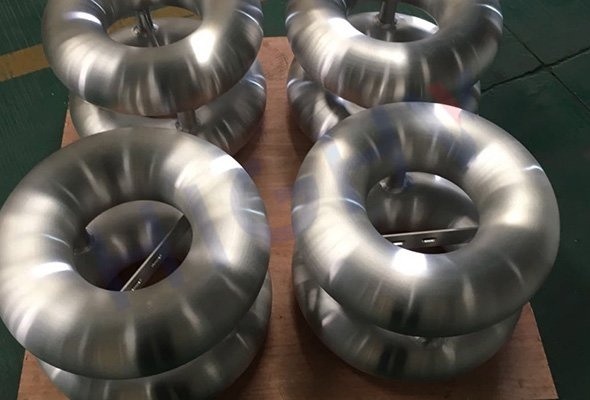 | | |
| --- | --- |
| Product Name | Corona Shielding Ring |
| Material Used | Aluminum |
| Surface Finish | Polishing Bright |
| Application | High Voltage Lab |
| Delivery Country | Oman |
What Is Corona Shielding Ring Packaging?
Highv has professional packaging team who can adopt developed packaging technology and packaging style to ensure the corona shielding ring packaging quality.
Standard sea packing, the corona shielding ring packaging can be done by wooden case and carton box. The wooden case and corona shielding rings contact parts must be padded with foamed paper or rubber. Wooden case four corners shall not be smaller than the size of the corona shielding rings. Corona shielding ring's surface is wrapping foam paper, and four sides contacting with wooden case with foam mat protection.
In addition, clear labels are tagged on the outside of the packages for easy identification of the corona shielding rings measurements and quality information.
How To Choose Corona Shielding Ring Manufacturer
As the one of leading corona shielding ring manufacturers in China, Highv is professional at manufacturing and supplying of aluminum corona shielding rings with 30 years experience.
The engineers expert team are skilled at AUTO CAD, PROE, SOLID WORKS and UG softwares for your corona shielding rings design and production.
You will get the high quality corona ring with affordable price from us.
HIGHV offers complete corona shielding solutions, 24/7 one-to-one free service and support, which is available free.
How To Buy Corona Shielding Ring
The first and most important among our pre-sales support is, at every stage, providing comprehensive information for you, communicating with you to determine your unique products needs, finally helping you to make the most reasonable purchasing decisions.
When you want to purchase corona shielding rings from Highv, the following information should be clarified before order:
Detailed Drawings (CAD/PRO-E/UG/SOLIDWORS software support)
Application (High Voltage Bushing, Power Transformer, etc.)
Material Grade (Aluminum Alloy, Stainless Steel, Copper, etc.)
Dimensions (Tube Wall Thickness, Outer Diameter, Others)
Surface Treatment (Polishing Bright, Blue Color Painting, Galvanized, Coating Insulating Varnish, Anodic Oxidation, etc.)
Production Type of Corona Ring (Pipe Bending or Pressure Die Casting)
Voltage Class (170kV, 230kV, 500kV, 800kV, 1100kV, etc.)
Packaging Type (Carton Box, Wooden Pallet, Wooden Case)
Delivery Time (15-20 Working days After Confirmed The Deposit)
Quoted Term (EXW, FCA, FOB, CFR, CIF, DDP, etc.)
If you want to buy other corona shielding products from us or require service support, please don't hesitate to contact our HIGHV team at any time.
Need More Corona Shielding Ring And Shielding Solutions